Just a disclaimer.. I'm quite drunk while typing this.. so please forgive any 'creative' thoughts that pop up. Spelling/grammar mistakes, you can put down to the fact that it's 2 in the morning.
So earlier today, I got a text from Gibs asking me if I'd like to go to concert tonight. Apparently, he had a ticket for me already, which was quite nice of him. The artist in question was Zucchero, who I'd never actually heard of. A few minutes on Google, and I had an idea who this guy was. You've all most likely heard at least one of his songs.. this one here . I always wondered why Paul Young was singing in a different language when I was younger..
Anyway.. my day was pretty boring actually. I spent 2 hours today trying to get my Playstation hooked up the TV in this apartment. The settings saved on it from Dubai weren't compatible with the TV here, but eventually I managed to get it to work by plugging it into the TV in the bedroom (this apartment kicks ass on SO many levels) and changing the settings there, then moving it to the living room. So now I have a PS3 running on a 53″ plasma TV. I think I know what I'm going to be doing tomorrow…
Around 7:40, I left to go meet Gibs, Dee, and HaMa at the Berklee Performance Hall where the concert was. It's a 15 or so minute walk from my house. On the way, the Nor'easter* that we'd been warned about started. Snow was starting to fall, but it was competing with the rain, and up till that point, rain was winning.
The concert itself was actually pretty good. Not exactly my kind of music, but he's a good performer, and I have to say, the acoustics in the Berklee hall are phenomenal.
From there, we decided to go and have a drink nearby. When we got outside, we were stunned by the weather. Sleet, rain, snow.. it was incredible. There were visible patches of slush already starting to form where the sidewalk slanted downwards. The forecast called for snow all the way till 10am tomorrow morning. 12 more hours of this?!
We got to the bar and then, as happens on Saturday nights, we overdid it a bit. Here's a pic of me taking a shot of a "buttery nipple". That was awkward to order.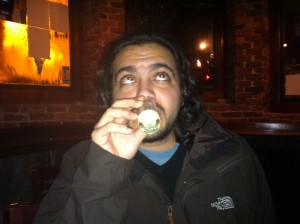 Around 1am, we parted. Gibs and Dee had already gone home, so it was just me and HaMa. They decided to take a taxi, as the walk home would be ridiculous given the weather. I, being the brave little trooper I am, opted for the walk.
Oh my.
At this point, the walk took about 25 minutes. The temperature in Boston is around 2 degrees right now. And it's snowing like crazy.
When I eventually got home (do remember that I'm quite drunk), I decided that the best course of action would be to grab my camera and go out again and take a bunch of pictures of the snow.
At the very least, this should go some way towards making up for the fact that I haven't been taking pictures so far. My frostbitten hands plead for mercy.
I present to you the first snowfall of the year. Welcome to New England!
I can't wait to see what my neighborhood is going to look like in the morning. Hopefully I'll be awake before the snow melts and will be able to get some pictures. Not that it matters, seeing as I'm in New England, and I can expect several months of this, come January.
*I know most of you won't click the link, so here's a quick update for you. Basically, we had a massive storm forecast for this evening. We're expecting between 1 and 5 inches of snow here in Boston. Some areas are getting up to 18 inches. It isn't even Halloween yet for fuck's sake.